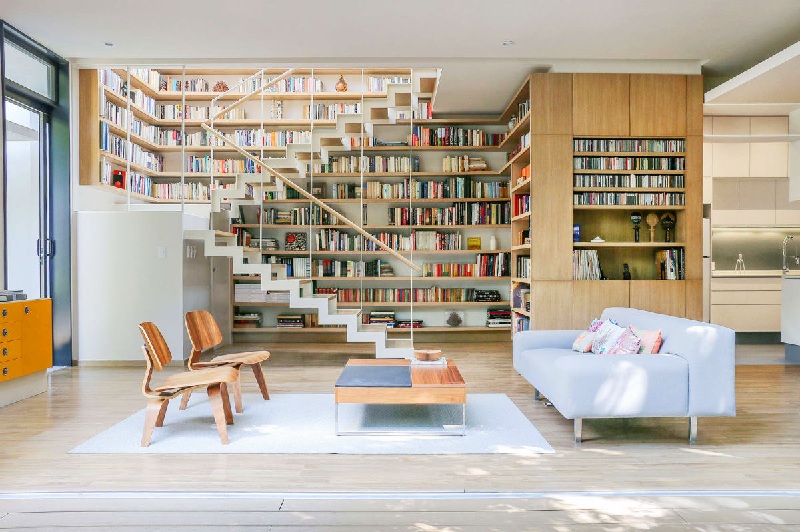 Despite the variety of electronic gadgets adapted for downloading, readings, listening to literary works, printed books still play an important role in our lives. Home is the place where you can relax while reading a fascinating novel, storybook or magazine article. To store prints, maintain order in the home library, regardless of its size, a full bookcase is needed. Most often, the place for him is in the living room, rooms where they gather with the whole family receive guests, communicate. What are bookcases and how to correctly fit these models in the interior of a modern living room?
Main types of bookcases
Modern bookcases are divided into three main groups according to their design features:
built-in;
corps;
modular.
Built-in or partially built-in models are installed in niches, openings, walls, between a wall and a column. Cabinets, which are installed close to one of the walls, with fastening to the floor and ceiling, fit perfectly into the interior of the spacious living rooms. They serve to store books, decorative gizmos, and also serve as partitions, zoning the space. The case of the built-in cabinet, its parts can be the walls, side, rear planes of the niche, to which the bookshelves are mounted, as in the photo.
Cabinet models are self-sufficient furniture; it can be moved from place to place, transported with you when you move.
Modular cabinets – salvation for a small living room and a versatile option for a spacious room. Separate modules (cabinets, racks, shelves, showcases) are easily interchanged from time to time, selecting in size, purpose, making up new convenient combinations for storage.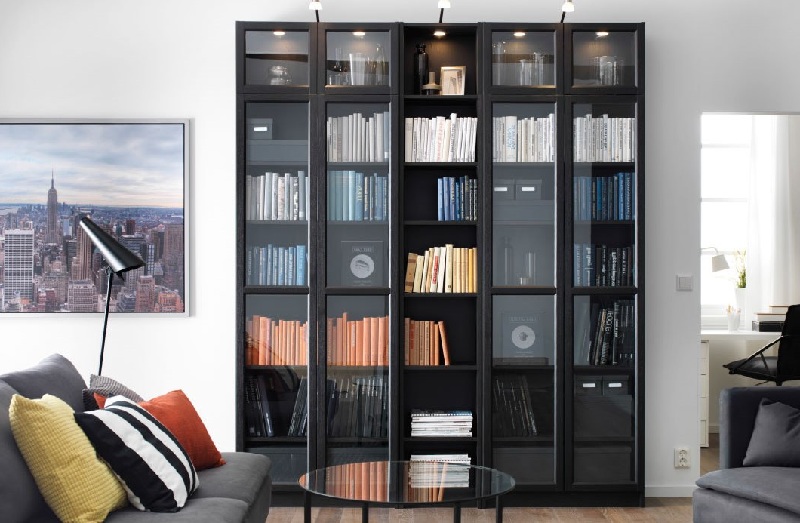 Various designs and modern models in the living room interior
There are many types of bookcases that will adorn the modern living room. Consider the most popular models and some of their features.
Bookcases with or without doors
A bookcase can be equipped with sliding, hinged, hinged doors, also relevant models without wings. The presence of doors (in bookcases they are most often made transparent) will save the home library from sunlight, dust, dirt. Cleaning will have to be carried out much less frequently, and glass doors will not prevent a quick search for the desired publication. Sliding doors are convenient where there is not enough space for classic swing doors, and flip-up doors are suitable for small wall cabinets, like kitchen ones.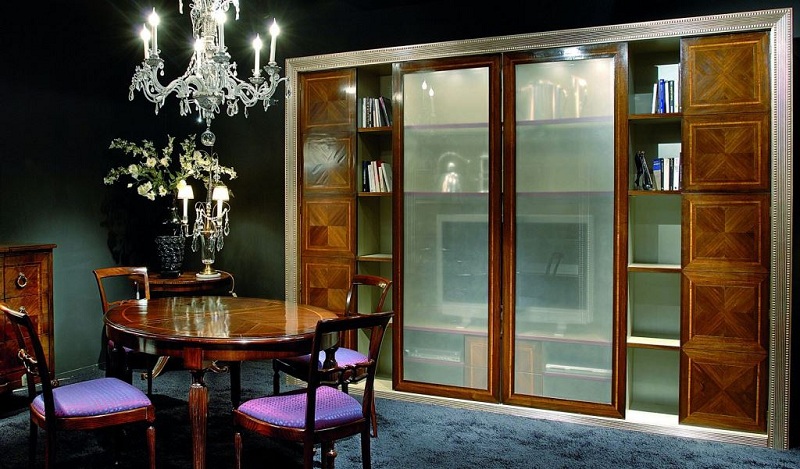 Shelving – the classic version of the bookcase without doors. It does not take up much space, does not look bulky, convenient, practical. The rack can be transparent, like a shelf, without a back wall. It is convenient to visually divide the living room into different areas with such structures, restricting private corners for reading, relaxing, separating the reception area from the dining area, home cinema with soft furniture around. Wall shelves are often installed symmetrically: on both sides of the sofa TV, fireplace (as in the photo below), mirrors, window, doorway. This technique helps to maintain harmony in the interior.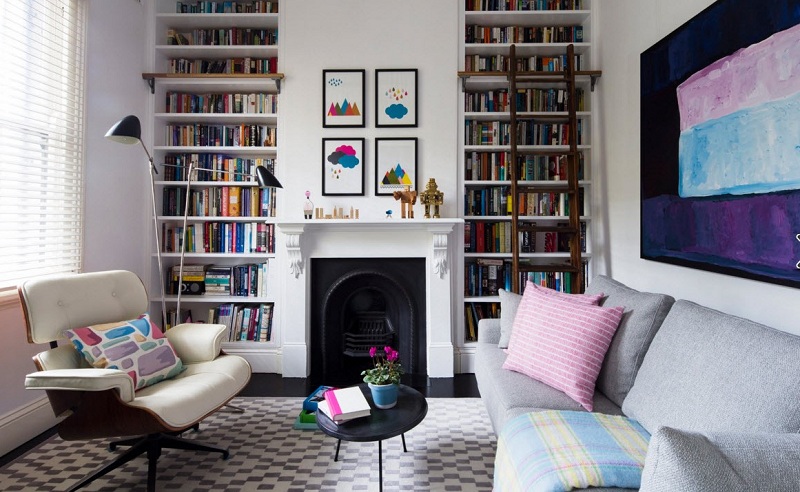 Cabinet installation options
In addition to the built-in and classic wall options, there are cabinets for placement in small rooms, where every square centimeter of free space counts. Bookcases can be floor mounted or mounted (they are hung over a sofa, chest of drawers, low furniture). Wall cabinets are good because they do not visually and physically clutter up the living room area, being an alternative to regular shelves.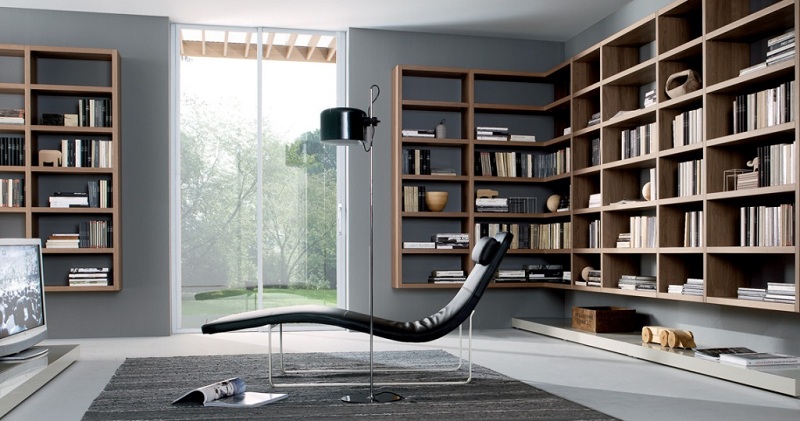 Recommendations for small living rooms
For small spaces, designers specially design compact corner models, convenient showcases on legs: along with books they store dishes, figurines, decor items, and other beautiful, useful things. Narrow canisters are suitable for placing small collections of books and magazines, they occupy a minimum of space, perfectly fitting into the modern interior due to its functionality and versatility.
To make the room visually more spacious will help inconspicuous bookcases, painted in one tone with the walls, wallpaper. They literally merge with the situation, even if the shade is chosen bright and saturated. White shelves look airy, almost weightless, and glass doors are almost invisible, in addition, they have a mirror effect, partially reflecting the light, visually give the room volume.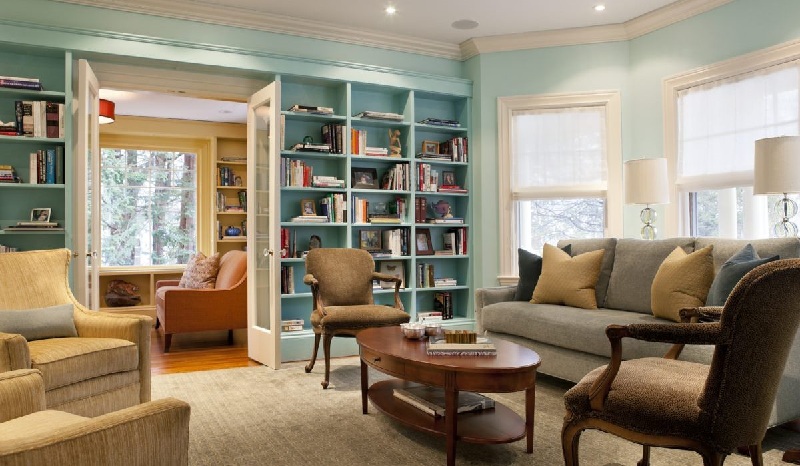 Gaining popularity in modern interiors are arched designs. We are talking about lockers, fixed in the upper part and on both sides of the door or window openings. This technique perfectly saves space, allowing you to maximize the use of free wall space for your home library. Shelves are fixed not only above or around windows, but also under the window sill, in the lower part of the walls, on the window slopes. At the same time, the window sill itself and the upper part of the lockers can be used as a cozy corner for reading, as well as additional seating.
Mobile Bookcases
This category will perfectly take root in the interior of a modern living room, where the practicality of furnishing is especially appreciated. These cabinets are equipped with wheels, they easily roll out, slide back into place. The complex construction of several cabinets, if necessary, will serve as a partition. In this case, you do not have to move all the cabinets to get the right book.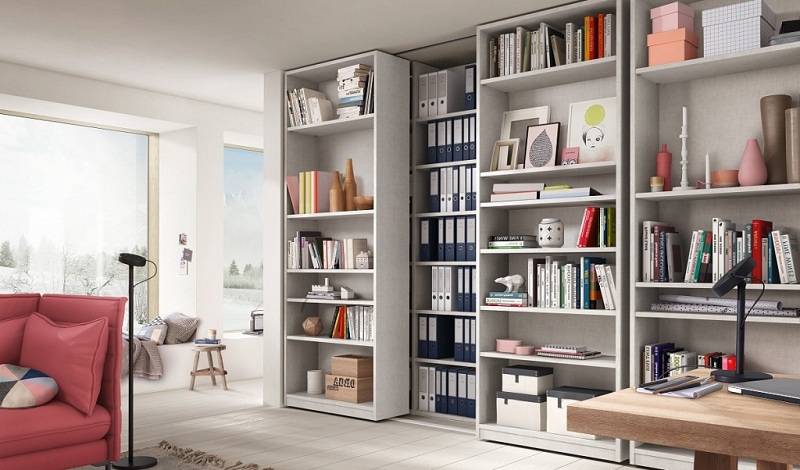 Practical fixtures
If you decide to install a large, modern bookcase with ceiling height, do not forget to provide access to its upper shelves. Of course, you can use the usual step-ladder, but in the interior of the living room, there will be a much more beautiful looking special staircase that moves along the guides along the racks.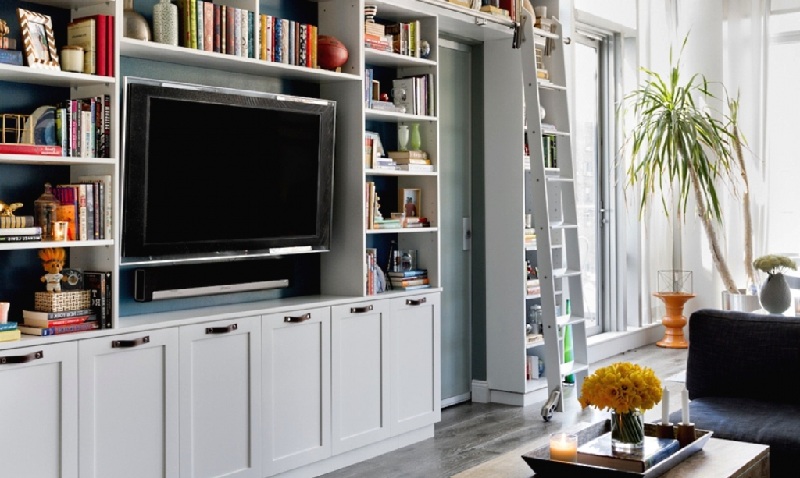 The built-in LED backlight helps you quickly find the right edition in the closet at night, without turning on the overhead light. In addition, the lighting of windows with glass doors in itself creates an original light script, giving the interior of the living room a magical and at the same time cozy atmosphere.
Choosing a bookcase that matches the modern style of the living room, pay attention to the combined storage systems. In the classic interpretation, it can be a wooden cabinet with glass doors of the upper module and fully closed drawers at the bottom. Modern modular systems for living rooms combine corner and linear shelving, models with different types of sashes, mirrored and glass doors, colored cases and traditional wood options, closed and open shelves, and cabinets. In such a system is often integrated booth and space for a television panel, computer desks, and other elements. One of the favorite design techniques for small living rooms and studio apartments is a folding bed disguised as part of a bookcase or hidden in a podium on which a working corner is located surrounded by bookcases.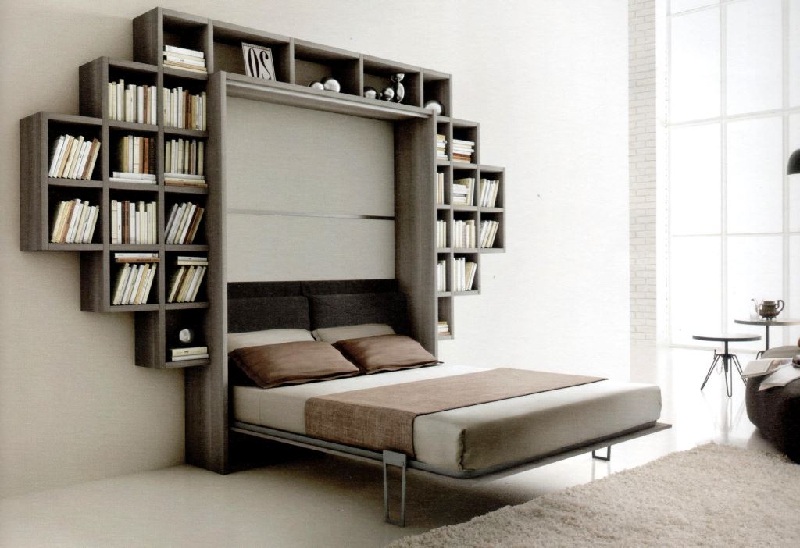 Sizes, color, material
Modern bookcases, in contrast to the classic massive furniture in the Victorian style, make it quite light and compact. The depth of the shelves varies from 15 to 25 centimeters, with the exception of models designed for large-format publications. The thickness of the shelves is at least 2 centimeters, the length of the rack or one module is about one meter. With such proportions, the shelves will withstand a large weight of books. Composing modules of the same height and design, you can organize your home library, which will decorate the interior of the living room and will help keep the books in perfect order.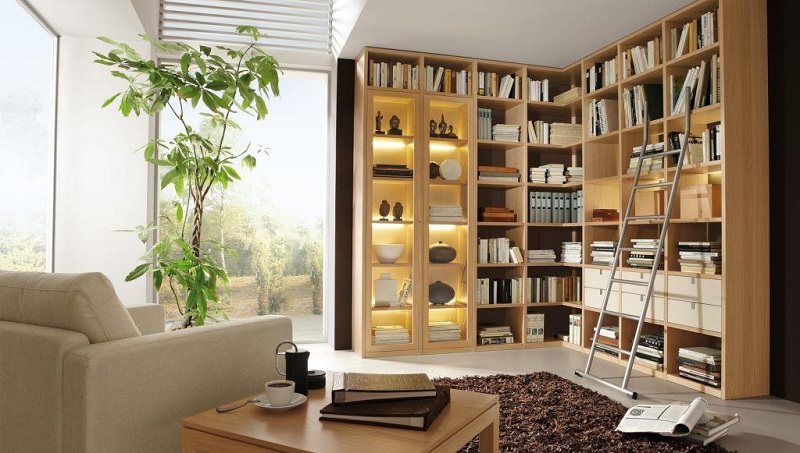 The most popular and most expensive material for bookcases is natural wood. The budget alternative to the oak massif is racks of MDF, lined with wooden veneer. Even cheaper will cost cabinets of chipboard. Plastic models, for the most part, are not designed for heavyweight and are more suitable for storing various trinkets or decorative items. Racks made of metal are durable, durable, but look out of place in classic interiors.
Custom design models and style
Speaking of bookcases in a modern interior, one cannot fail to mention designer models that are capable of evoking a whole gamut of feelings from delight to surprise. On the Internet on specialized sites and even in wide sales there are lockers and racks of the most incredible forms: hinged in the form of a telephone booth, shelves built right into a chair, modules in the form of snails, honeycombs, cabinets of island type, shelves resembling ocean waves a lot of other options.
Inspired by non-standard ideas and your own imagination, you can make an exclusive locker with your own hands or order it to be made to joiners according to your size sketch. Today vintage and eclecticism are in fashion, so even in a modern living room, an old Victorian wardrobe or an updated grandma's rack from the Soviet past will look quite relevant. Metal shelves perfectly fit into the design of the living room in the style of loft, hi-tech, any urban interior. In addition, there is a mass of modern metal products with dusting and other finishes, including "under the tree", which will decorate a modern apartment in the spirit of modern or neoclassical. With all the variety of proposals, a sense of taste will help you choose the perfect closet for the living room, beautiful and practical.