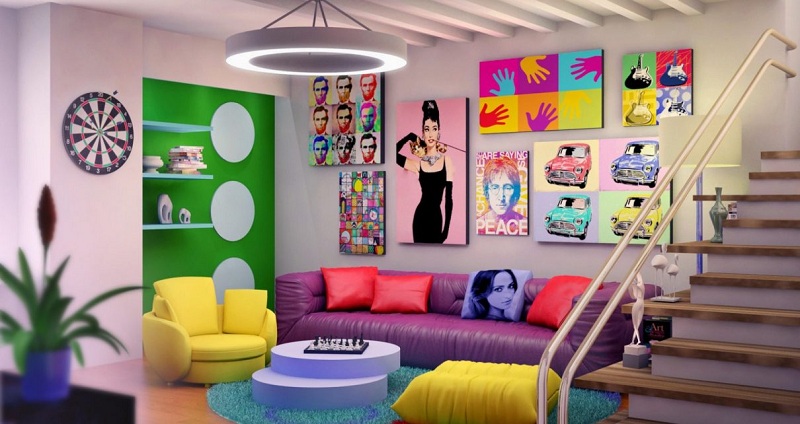 Style pop art is a modern interior style that appeared in the 50s of the last century on the wave of the development of abstract expressionism. The style combines bright colors, involves the use of inexpensive, but original design elements, as well as a large number of paintings in the style of Andy Warhol.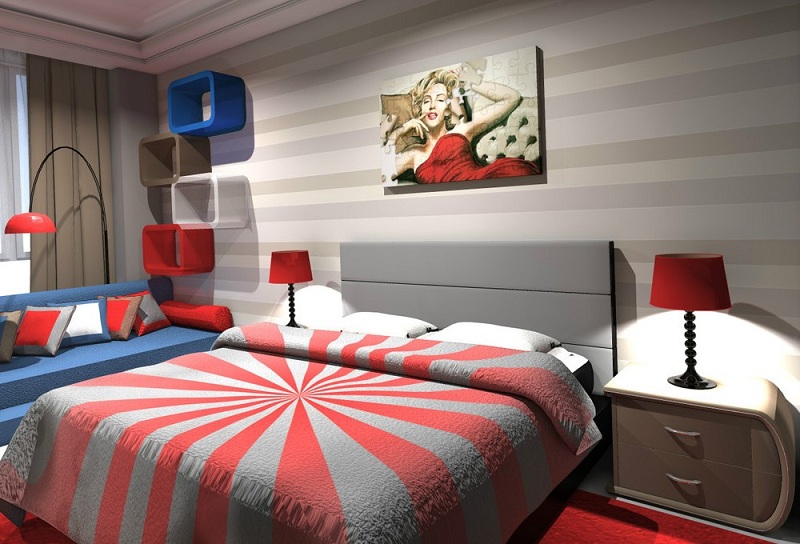 The main features of style pop art
The pop art style looks great in the interior of a private house or apartment, it effectively complements restaurants, cinemas, and other public places. Traditionally, the main features of this style include:
the use of bright finishes, complemented by acidic shades that dominate the furniture and furnishings;
walls decorated with paintings of pop art, as well as posters;
good room lighting, installation of neon feet, LED lighting;
The use of household items as functional accessories. For example, bottles can play the role of a vase, and cuts from comics hung on walls will function as expensive paintings;
Creation of decor using a variety of shapes, original installations.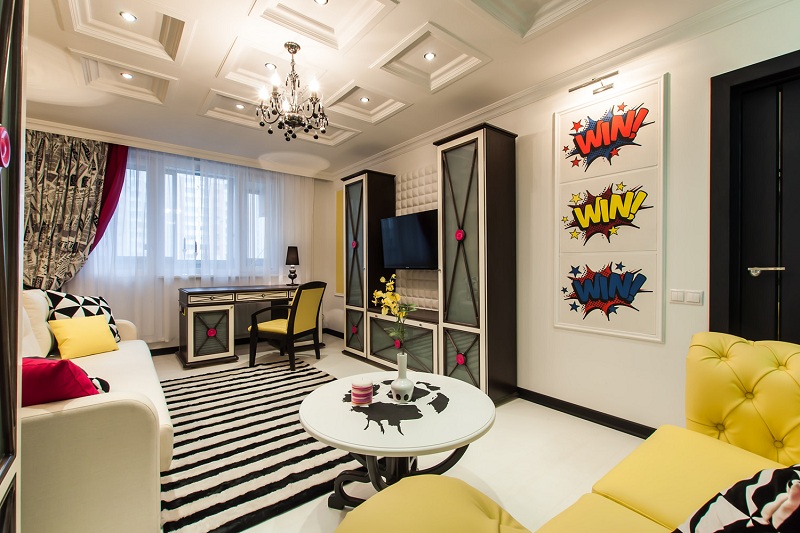 The combination of a riot of colors, paintings allows you to create unusual rooms in which you want not only to relax, but also to have fun, to live life to the fullest. If you are not yet ready to radically change the apartment, you can make an accent wall in the style of pop art. In this case, the room will have a discreet design, which combines 2-4 colors, and one of the walls should be supplemented with an accent painting, drawing, vinyl sticker or plates.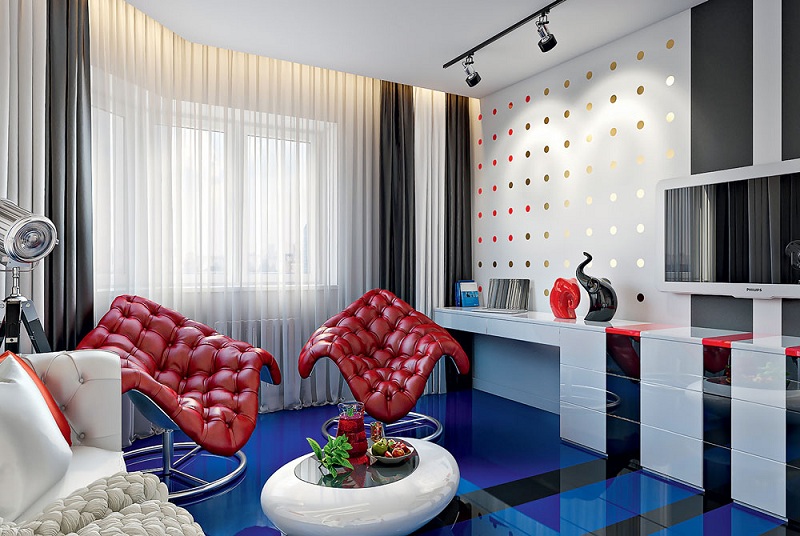 Materials and finishes
In this style simplicity prevails, it allows you to look at old household items in a new way. Making an apartment in the style of pop art, you can not adhere to the strict framework, using materials that are at hand, differ in affordable cost. In the interior, pop art can be easily combined with expensive parquet and a wall painted with plain white paint. To create an authentic room decor you can use the following materials:
themed wallpapers and wallpapers;
vinyl stickers;
images applied to the wall using a stencil;
Plaster or water-based paint, best suited to create a light monochromatic background.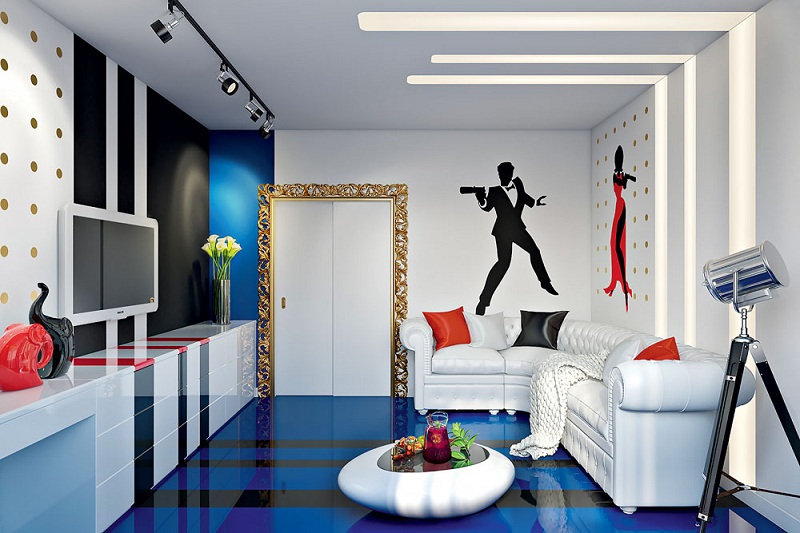 Preferably the use of products from plastic, glass, furniture with lacquered MDF facades, which have an attractive glossy surface. For the floor, it is worth choosing laminate flooring, any types of tiles, but the ceiling can be made tensioned by decorating it with spotlights.
Furniture with photo
Plastic chairs with a bizarre curved shape, chairs, featuring textile upholstery and a steel frame, transparent tabletops – all this variety of furniture goes well together in pop art style. The main thing is that the furniture items have a bright color and an unusual shape:
huge soft sofas;
plastic chairs;
the chairs having reduced dimensions;
A large number of shelves and cabinets.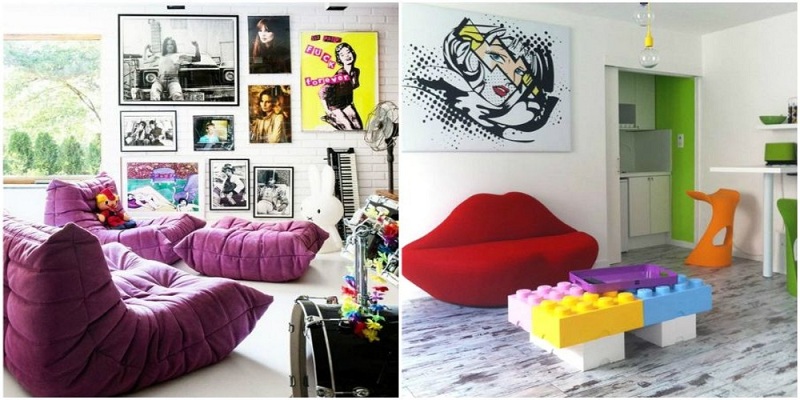 Even if you don't find something suitable in the collections of the furniture of pop art, you can use rugs that are distinguished by rich color, sofa cushions, bright puffs to make the interior light, to make it more understandable and simple. For rooms in this style is not typically the use of massive furniture made of natural wood, too expensive elements of furniture!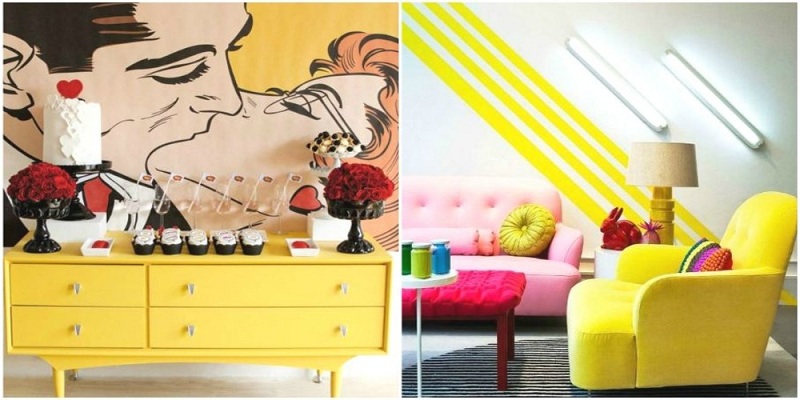 Colors
The palette of style involves the use of light base colors: white, beige, gray, silver. When creating the design, acidic pink, green, purple, yellow, blue, red and other colors prevailing in the decoration of furniture, accessories, and lamps are used. Choosing the design of pop art, it is necessary to find a balance between brightness and restraint: light finish – flashy accessories, otherwise the room will be too emotional, oversaturated.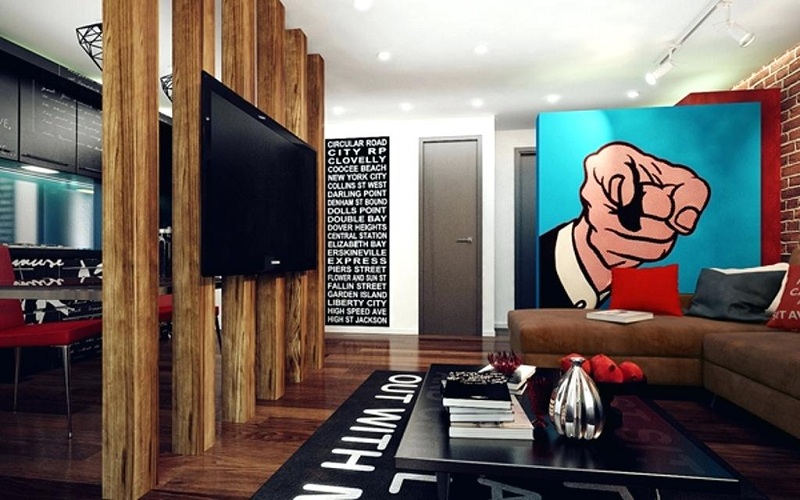 Pictures
Pop art originated as a style of painting, was used as a tool by which artists tried to convey to their fans the ideas of social equality, the absurdity of turning everyday things into a cult. This position is reflected in their paintings, which have the following characteristics:
a technique of creating collages;
the use of very bright colors;
the picture is more like a poster or advertising poster, containing not only the image but also slogans, inscriptions;
The pictures depict the usual things that the artist presents in a new light.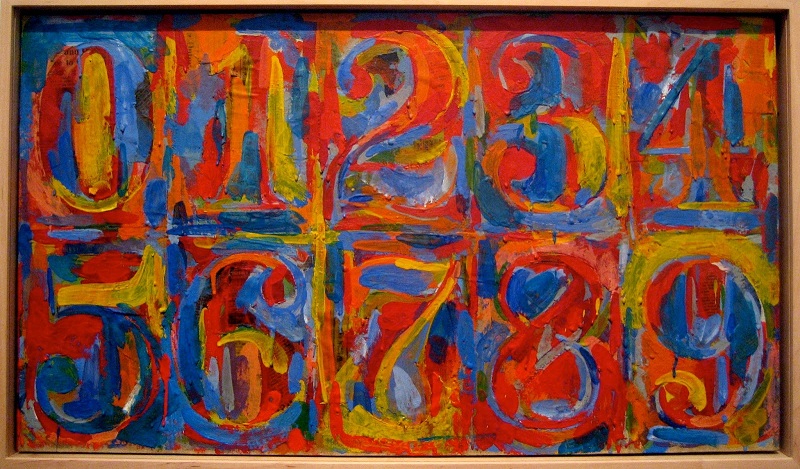 Creating premises in the style of pop art does not require large expenditures or efforts. Paint the walls with white paint, use simple but bright furniture, and decorate the largest wall with a picture of Jasper Johns or David Hockney to achieve authenticity!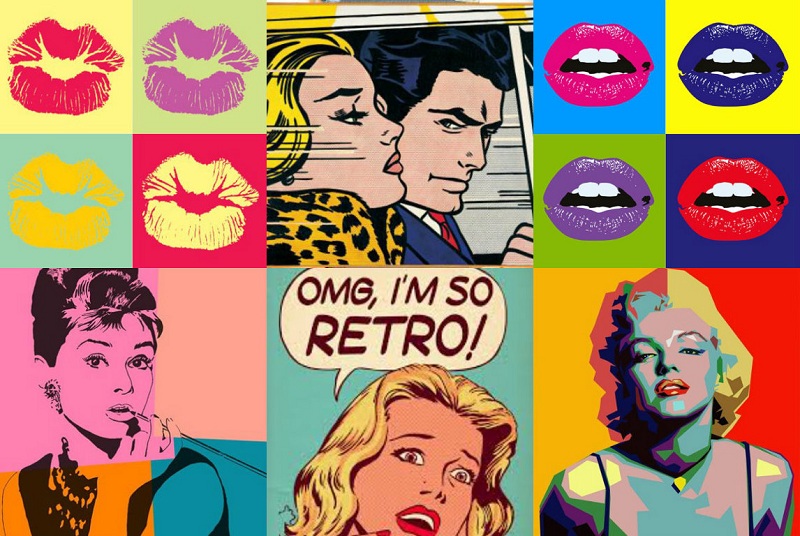 Accessories
As for accessories you can use any items, taking into account the recommendations of designers. Put the usual cleaned tin can on the dresser, because it can function as a vase or stand for pens. A stack of newspapers or magazines, located near the chair, turns into a not very practical, but beautiful and original coffee table.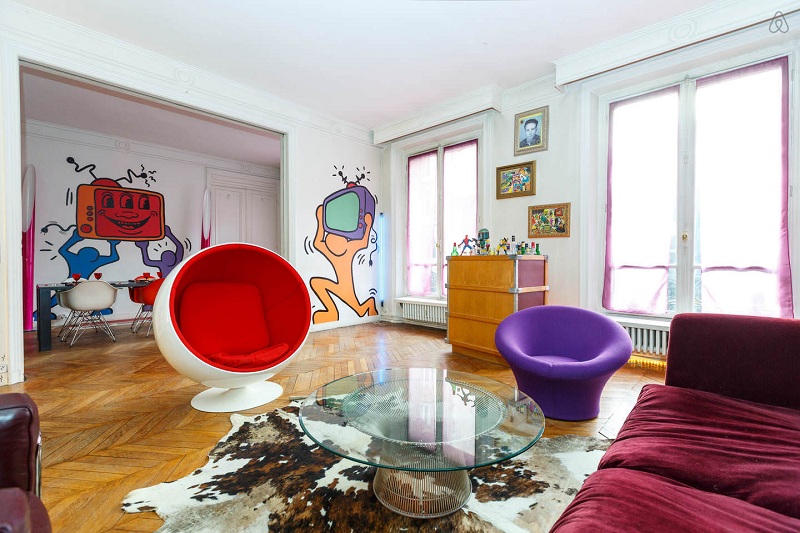 Lighting
In the rooms, designed in the style of pop art, the windows should let the light in well, therefore it is worth refusing from heavy curtains and curtains. The ideal solution is blinds or reliable blinds that will not prevent daylight from entering the room but will hide apartment owners from prying eyes in the dark.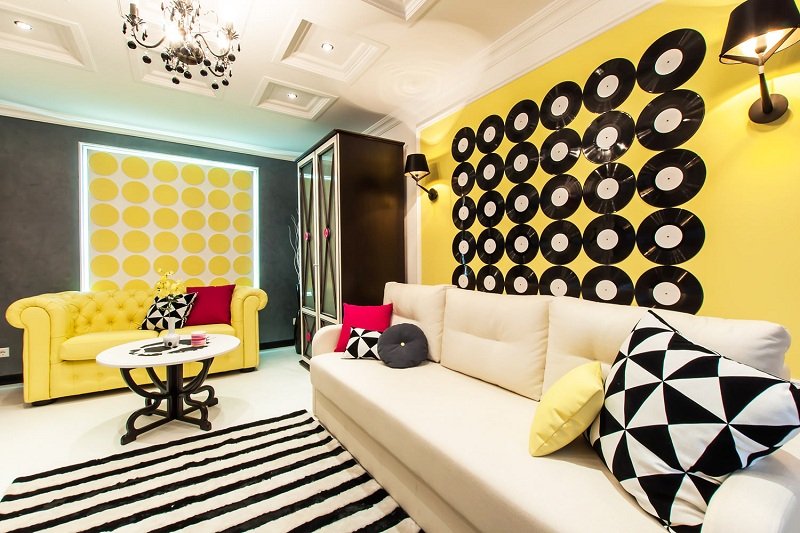 Ceiling and wall lights, neon lights are used as sources of artificial lighting. It will well complement the overall aesthetics of a suspended ceiling with lights and mirrors, as well as glossy surfaces of furniture and accessories that reflect light.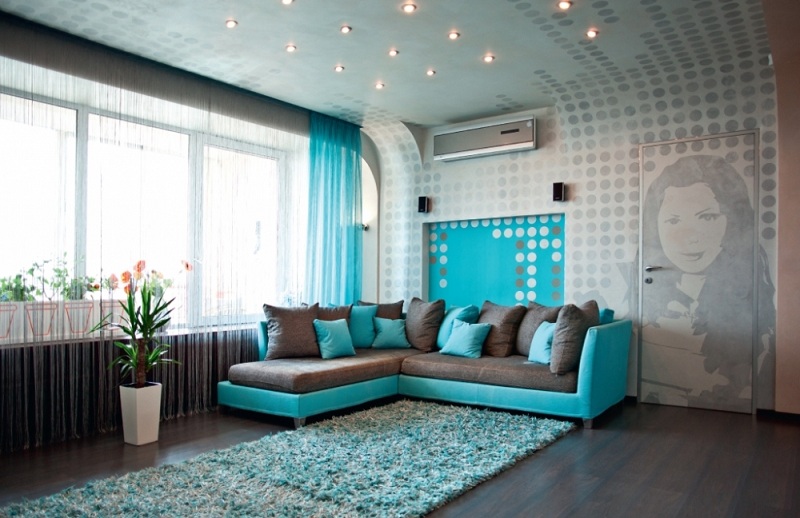 The simplicity bordering on deliberate pompousness, bright colors, and original accessories and furnishing elements made from budget materials are what makes pop art the perfect interior style you can create with your own hands. Connect the imagination, use photos of finished interiors to bring shades of freedom, equality, and good mood into your home!