Making an apartment in a certain style, many undeservedly ignore the area of ​​window sills. The maximum that adorns most windows is drapes and house plants in a variety of pots. Meanwhile, any, even the narrowest window sill can be turned into a magical installation or made part of a general stylistic concept. Abroad, window sills are designed not only by designers but also by ordinary citizens, because this requires only imagination, free time and good taste. However, any decor will make sense only if you are not going to hide it behind curtains. How to decorate the window sill, making it an element of the interior?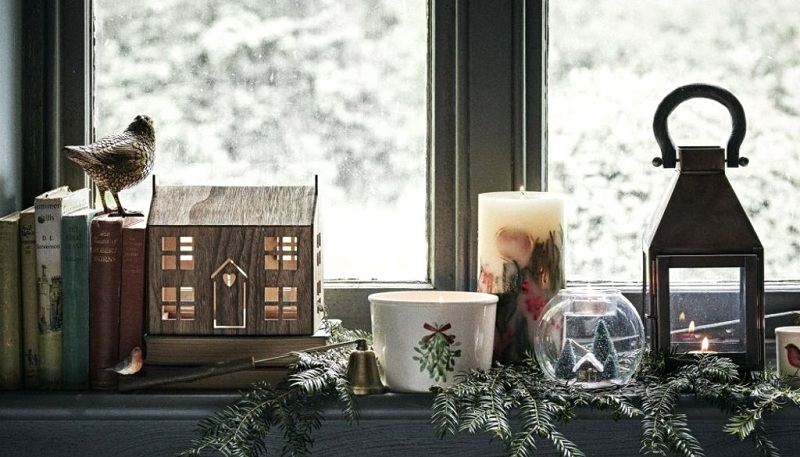 Methods and themes for decorating window sills
Before proceeding to design, you must decide whether you want your creation to be visible from the street, and how to make sure that this does not go against the privacy of the home. The easiest way is for those who do not live on the lower floors, far from other houses. In this case, you can restrict light tulle or curtains framing the window. If your apartment is located on the first and second floor, and the house itself is close enough to the pedestrian zone of the street, the roadway or opposite are the windows of another house, try replacing heavy curtains with Roman curtains or neutral blinds, as in the photo below, which will save you from bright sun and curious glances, but do not hide the original design of the window sill.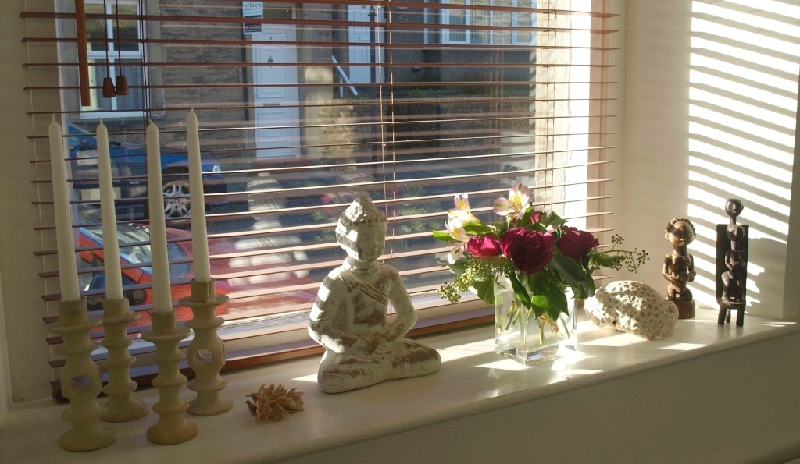 Next, you need to decide on the theme and purpose of the decor. He might be:
holiday, dedicated to a date;
seasonal, seasonally;
creative in the spirit of eclecticism or the style of the room itself;
functional or just aesthetically appealing.
Classic design window sills
To begin, consider how to decorate the window sill with your own hands, using the objects at hand and imagination. Such items that can be found in any home include home plants, books, souvenirs, or some kind of decorative objects.
Flowers or mini-garden
Home plants, flowers, herbs will decorate any window sill, be it a kitchen, bedroom or living room. Be sure to think of the composition in advance, including the number of pots, their size, colors, and varieties of planted plants. In the kitchen, you can put a wooden box with small pots and grow herbs in them: rosemary, basil, as well as traditional parsley, dill, germinates green onions. Not bad and such an option as iron buckets with herbs, tomato seedlings, cucumbers.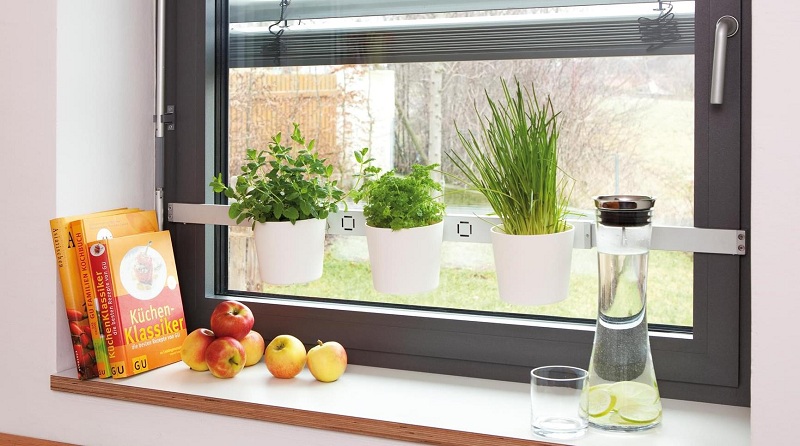 If we are talking about large plants, stop choosing one type in a beautiful pot or a pot, a small tub. The mini-garden from pots of one color and style with blossoming, green plants will look stylish. Succulents can be transplanted into funny little pots or old cups, sugar bowls of different colors. Greens look great on a background of wood, small pebbles. Combining succulents with pebbles, decorate a mini-garden in a wooden box, a large transparent bowl or an aquarium on the windowsill.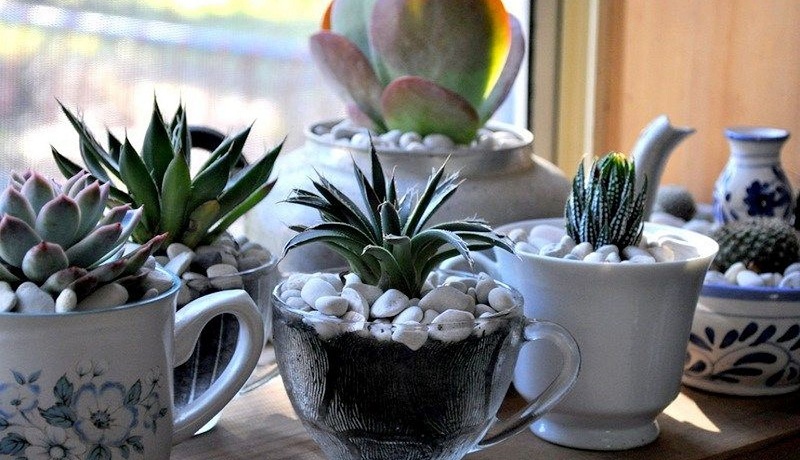 Reading and resting corner
How and with what to decorate a window sill except for flowers? You will be helped by a small stack of books in combination with comfortable, soft pillows or a mattress. This option is suitable only for wide windowsills. The narrow surface can be extended with a small pedestal or a built-in shelf where you will store your favorite books. During the day you can read in natural light, and in the evening you should stock up on a reading lamp or a floor lamp. You can add a collection of your favorite books, magazines with a beautiful stand or original holders, the main thing is not to overdo it with the number of publications, and otherwise, you will get a banal mess instead of a cozy reading corner. Alternatively, you can fix the shelves for books on the walls around the perimeter of the window or on the slopes.
Collections, souvenirs, decor items
If the room does not have enough shelves for your favorite souvenirs from distant countries, a collection of figurines or boxes, you should decorate them with an empty window sill, creating an original composition. How to do it? Think over several options of arrangement: in color, sense, a decor, the size. You can divide them into several groups or alternate with other objects: flowers in vases, beautifully dried branches, candles or candlesticks, compositions in transparent vessels made of shells, colored stones, and glass.
Storage in beautiful containers
A selection of unusual jars or boxes from one collection will help to decorate the window sill in the kitchen or living room, as well as in the room where you usually do some handicraft or hobby. If you sign containers in them, it will be convenient to hold such trifles as pins, threads, beads, beads, pieces of cloth. Cereals, spices, seasonings are not recommended to be stored in this way, as they can lose their properties from regular exposure to the sun.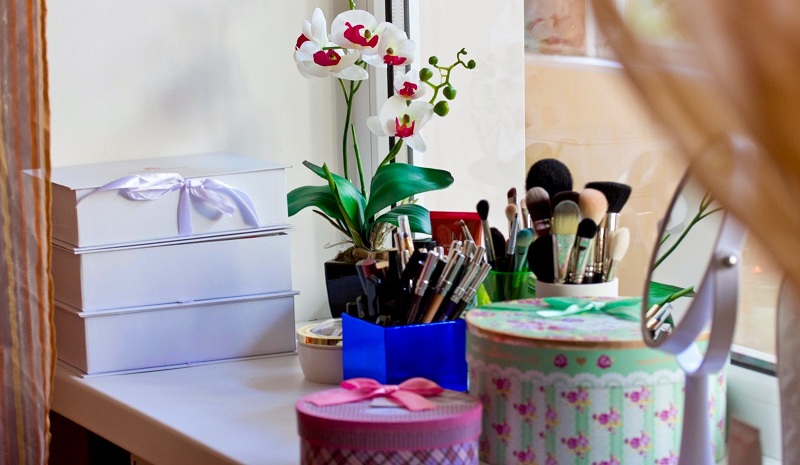 You can decorate the window in the kitchen or in the dining room not only with flowers but also with antique dishes, decorative milk jugs, jugs, coffee mills. On the window sill in the nursery, plant some toys, put small cars, but do not forget to periodically update the "collection" so that it does not burn out in the sun.
Festive, themed and simply elegant options
In the West, especially in Scandinavia, window sills in homes are traditionally drawn up for all major holidays, making jewelry with their own hands or buying in stores. However, in the intervals between the holidays, garlands sparkle in the windows, candles in festive candlesticks flash with lights, statues of animals, fairy-tale houses, owls, deer, and other decorative elements. Showing a little imagination, and you can build something amazing, turning the room into a fabulous cave or the main hall of the palace.
Candles, flower arrangements, and candlesticks
Candles are always an element of celebration. Choose large colored candles on stands or decorative items in candlesticks, combine them by color, size, style. Many candles look beautiful on their own, for example, thick gold, white, red models. They are perfectly combined with flowers in vases or small transparent vessels, other decor, needles, cones, glass colored pebbles, shells.
Freshly cut flowers in identical transparent vessels or colored bottles look unusually bright. However, a collection of bottles or vases of a colored glass of the same or similar forms will decorate any window sill and without fresh flowers.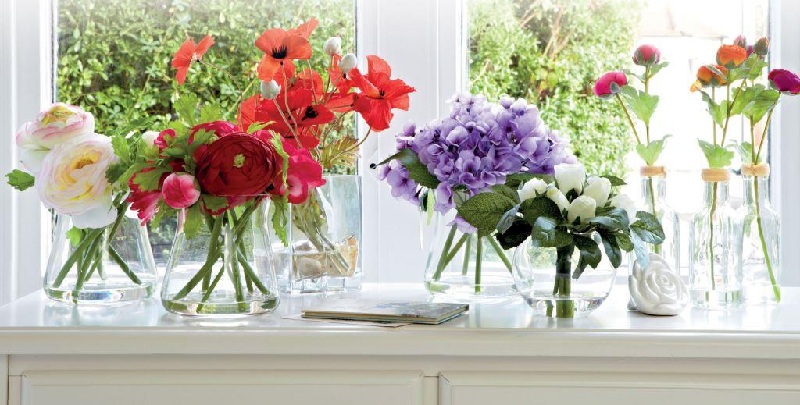 Candlestick, even if it is not used for its intended purpose, must match the style of the room. Classic single, double, gilded, silver candelabra will perfectly take root in a room of classic, retro-style, in the spirit of art deco, modern, eclecticism. Modern glass, shiny models are suitable for loft style, hi-tech, pop art. The coziness and atmosphere of a fairy tale will be brought into the house by candlesticks in the form of lanterns, animal figures, and magical houses. They will be appropriate in modern living rooms, Scandinavian interiors, as well as festive New Year or Christmas decoration window sills.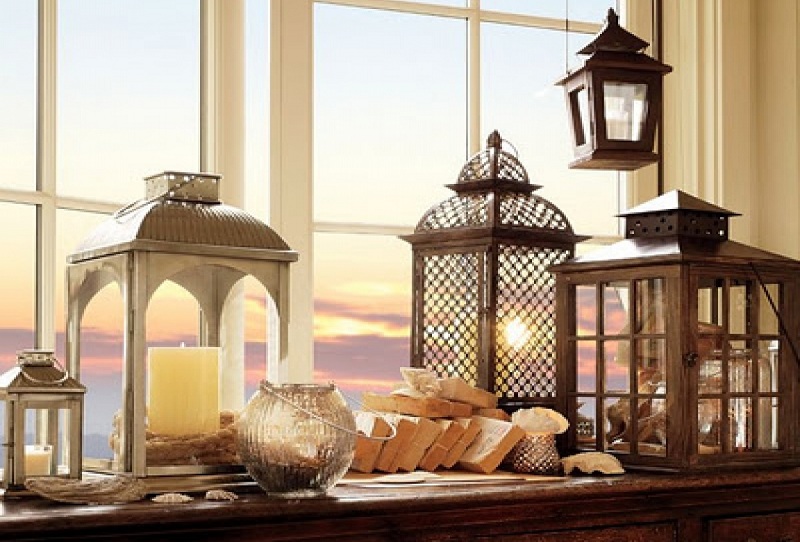 New Year and autumn
New Year is exactly the time when you want to create a festive atmosphere at home. How to decorate the sill thematic compositions? For this purpose, suitable for Christmas, pine cones, branches, red balls, golden bells (in fact, the color of toys can be any, but it should be in harmony with the overall palette of the interior).
You can arrange toys, branches, cones on the windowsill, make garlands of them, tied up with ribbons, or small wreaths and hang them at the bottom at different heights (the same can be done with Christmas toys, the main thing is to choose them by color and size). If you want to make New Year's décor more organized, use large and small transparent vases, preferably a round shape. In such vessels it is convenient to make compositions of cones, needles, decorating them with LED garlands, artificial snow, candles of various shapes.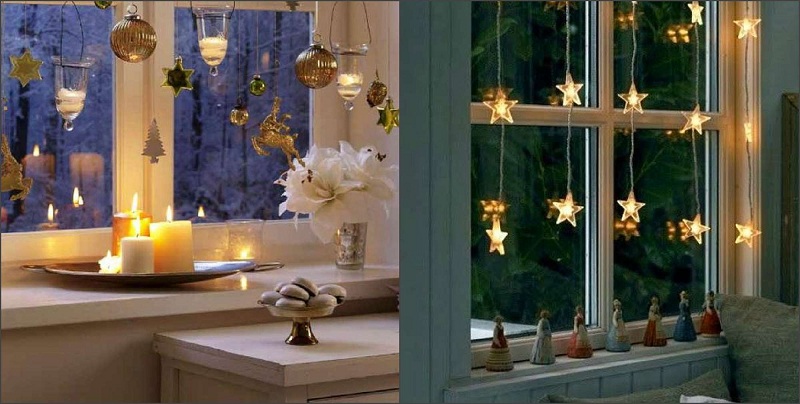 On sale, there are many LED garlands and toys: stars, angels, snowflakes, deer, snowmen, other festive decors. The window can be painted with special paints, depicting frosty patterns, themed pictures on it, illuminated with LEDs or candles, and your house will glow in the evenings, like a fabulous box. Candlesticks can be purchased or make their own hands from transparent or tin cans, light candles, LED flashlights. Try to decorate windows cut out of paper and cardboard with silhouettes – with snow-covered cities with illumination from the same garlands. Homemade garlands of angels, snowflakes, stars of white, colored paper, foil look charmingly – in a word, you can make anything you want to have enough time and imagination.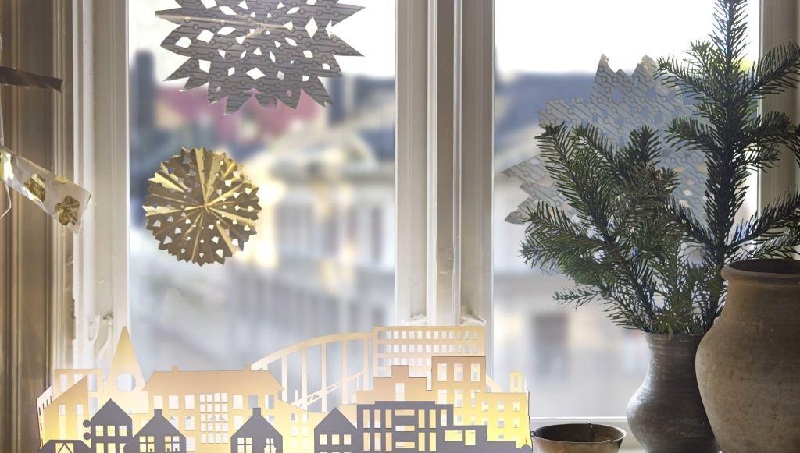 The autumn decor is dominated by bright colors: dried leaves of maple, other trees, red rowan berries, small pumpkins. Such a vegetable, like a pumpkin, is a traditional decoration on Halloween; they make charming and a little frightening candlestick with eyes. It is possible to decorate a window in the fall with a beautiful bouquet of leaves, berries, and twigs with cones in a high vase or a composition in a transparent spherical vessel. Candles in unusual candlesticks, softly flickering garlands, pendants made with hands from bright beads, similar to berries, or leaves cut from paper, will not be superfluous.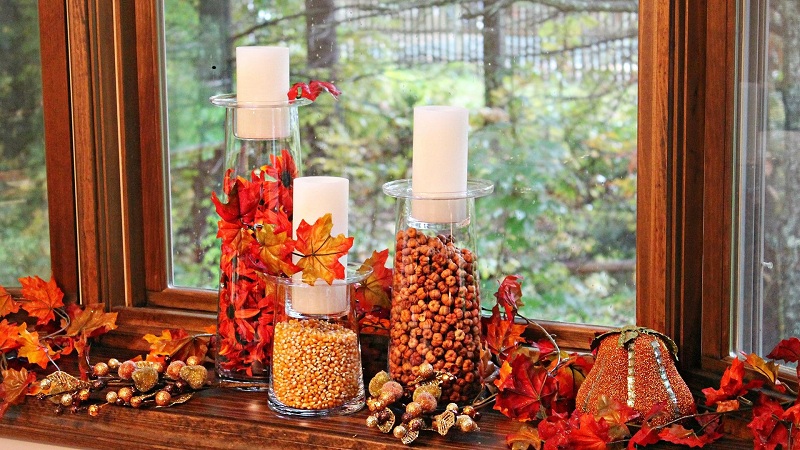 If you want to decorate the window according to the interior of the room, then for the classics choose bouquets of vibrant and dried flowers, for such styles as hi-tech and minimalism, modern metallic candlesticks are suitable, Provence is characterized by bouquets of dried lavender in tin pails decorated using decoupage technique, and the Scandinavian style accepts animal figurines, photos in frames, books on stands, large candles. We wish you inspiration and unbridled flight of fancy in the decoration of window sills!